DOSA-footprint DC/DC converters up to 30W maximise power density and efficiency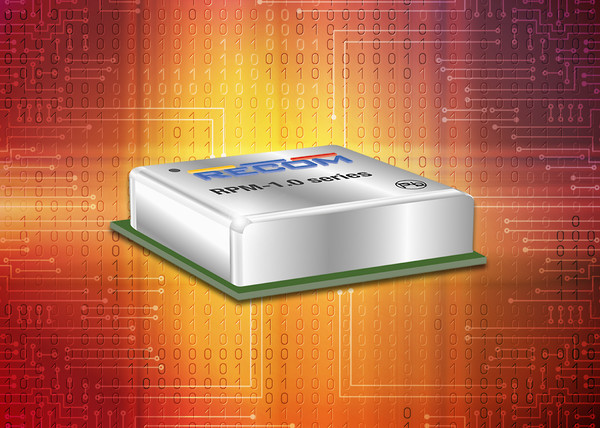 For applications that require high power density and high efficiency, Dengrove Electronic Components is stocking RECOM RPM3.3 and RPM5.0 non-isolated DC/DC converters in power ratings from 3.3W to 30W.
Compliant with the industry-standard 12.19mm x 12.19mm DOSA footprint, the 3.3V and 5.0V modules are available with rated output current of 1.0A, 2.0A, 3.0A, or 6.0A. Featuring an advanced control IC and multi-layer board design they are only 3.75mm high, resulting in class-leading power density of up to 800W/in3 and allowing use in space-constrained applications.
Very high maximum efficiency, between 97-99%, permits operation at full load in ambient temperatures up to 107°C without forced-air cooling thereby helping to simplify design and enhance system reliability. Packaged in a metal can and featuring a ground plane integrated in the bottom-side PCB, RPM converters have effective six-sided shielding for minimal noise emissions and are EN 55032 compliant.
Request
Samples
FREE DOSA-footprint DC/DC converter samples from Dengrove Electronic Components…
We have a range of samples subject to availability.
Please call 01525 237731 or email us at sales@dengrove.com to arrange samples.
In addition to their excellent all-round performance, the converters offer flexible control and trimming options. Pins for Power-good, On-off Control, and Sequencing with programmable output rise time simplify powering-up converters simultaneously or in a pre-defined sequence. The nominal output voltage of 3.3V or 5.0V can be trimmed up or down using a single external resistor, and programmable soft-start control is also provided.
Also in stock are RECOM evaluation boards for the RPM series to help customers quickly test the modules and begin development and prototyping.
The RPM series DC/DC converters are available now as surface-mount modules with Land Grid Array (LGA) contacts. Please call Dengrove Electronic Components or visit www.dengrove.com for samples and further information.
Datasheet
Downloads
Contact
Dengrove
So if you're looking for Power DC/DC Power Converters components for your next project, and you want a supplier with great customer service and the knowledge, experience and technical skills, then contact Dengrove today.
Call us. 01525 237731
Email us. sales@dengrove.com