RECOM introduce a New High Power LED Driver for Street and Outdoor Lighting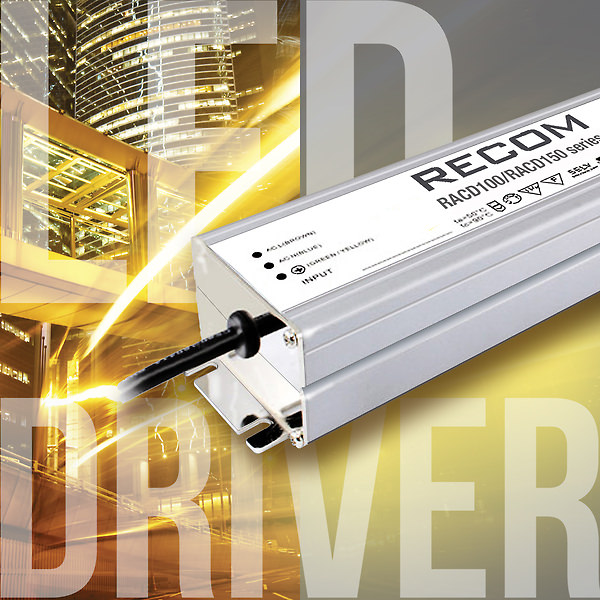 The new RACD100 and RACD150 series are perfect for indoor and outdoor applications whether they are running on 115VAC, 230VAC or even up to 277VAC including road, street and walkway lighting, LED signage and outdoor area lighting for car parks, public buildings and tunnels.
The RACD150 series is a 150W fully sealed IP67 LED driver with an extended universal input voltage range of 90-305VAC and constant current output from 6.3A to 3.2A at voltages from 24V up to 48V. The RACD100 series offers 100W of power with the same universal input voltage range and IP67 rating, but with constant current output from 8.3A to 2.1A at voltages from 12V up to 48V.
Both series feature dual mode operation for either constant current or constant voltage making them suitable for driving LEDs directly or via local constant current DC/DC modules directly on the light engine board. The converters operate with full load efficiencies of more than 90%, feature active PFC with power factors exceeding 0.98 and are fully protected against short circuit, open circuit, overload and over temperature conditions.
The RACD100/150 are Class 1 power supplies, housed in a metal case with 300mm lead wires, and are rated for ambient temperatures of -30°C to +70°C with a maximum case temperature of 95°C. The converters are UL, FCC and CE certified and conform to the UL8750 and EN61347-1 safety standards for LED lighting. They also comply with EN61000-3-2 class C for EMC and come with RECOM's standard 5 year warranty.
Datasheet
Downloads
Contact
Dengrove
So if you're looking for Lighting & Display LED Drivers components for your next project, and you want a supplier with great customer service and the knowledge, experience and technical skills, then contact Dengrove today.
Call us. 01525 237731
Email us. sales@dengrove.com