Small but powerful certified DC/DC-converter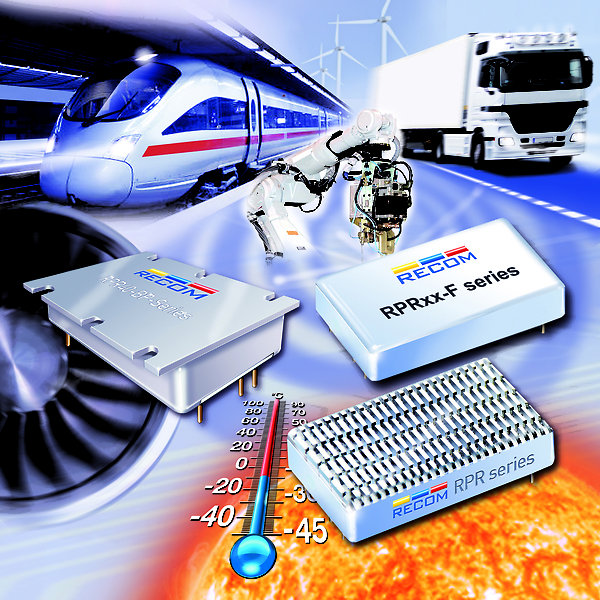 Dengrove announce that RECOM have extended its Powerline PLUS family with the RPR-series, designed specifically for railway applications these very compact converters work under extreme operating conditions without derating.
Extreme conditions such as heat, cold, shock and vibration have to be met – exactly the environment that the RPR-series from RECOM have been designed for. EN50155 specifies high requirements for information systems and electronic components including DC/DC converters used in railway engineering.
RPR-converters work with full power at operating temperatures of -45°C to > +85°C. Efficiency is >89%. These converters are very robust and EN61373 tested for 10G shock and vibration in all three axes. The series is power rated with 20, 30, 40 and 50 watts covering a wide input voltage range of 12 to 36, 25 to 75 and 40 to 160VDC. Single output voltages of 3.3, 5, 12, 15 and dual output voltages of ±12, ±15 and ±24VDC are available as standard.
RPR-converters are available in three different case styles. The "ribbed case" with integrated heat sink which is ideal for PCB mounting, the "flat case" version, useful in low profile applications with limited headroom, and the "base plate case" version where the converters are screw mounted to the frame for mechanical stability.
The RPR-converters are EN50155 and EN60950-1 compliant and have 1.6kV/1min. isolation as standard. They have integrated EMC filters according to EN50121-3-2, so a complete power supply can be build using only a few external components. The RPR-series are low cost railway converters offering distinctive technical advantages (size, performance and reliability) over existing railways DC/DC products.
Datasheet
Downloads
Contact
Dengrove
So if you're looking for Power DC/DC Power Converters components for your next project, and you want a supplier with great customer service and the knowledge, experience and technical skills, then contact Dengrove today.
Call us. 01525 237731
Email us. sales@dengrove.com