4W AC/DC modules meet ecodesign specifications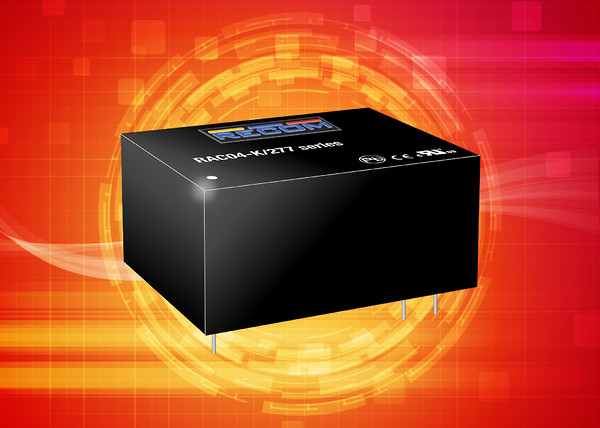 Dengrove Electronic Components is now stocking the RECOM RAC04-K/277 AC/DC 4-Watt power modules, which meet the latest EU ErP Lot 6 ecodesign specifications for standby and off-mode that apply to industrial and consumer products. Able to supply short-term overloads of up to 150%, the modules are a cost-effective solution for powering industry 4.0 and industrial automation, IoT and smart-building devices, and household appliances.
With a wide operating temperature range of -40°C to +90°C with power derating, and able to operate at up to 5000 metres altitude, RAC04-K/277 modules can be deployed in stressful environments. The series offers a choice of 3.3V, 5V, 12V, 15V and 24V output voltage and the full-load output power is available from -40°C to 75°C.
Ease of use is another strength of the RAC04-K/277 series. No external components are needed to configure a fully functioning AC/DC converter with 80-305V AC input range and a wide margin to class-B emissions requirements. Fully encapsulated in a 36mm x 26.5mm x 17.4mm 6-pin case, the modules are convenient and compact for use in space-constrained applications.
The RAC04-K/277 series meets high safety standards, with reinforced class II isolation rating for floating outputs and certified according to IEC/EN/UL/CSA 62368-1 for IT and AV equipment, EN 60335 for household appliances, and EN 61010 for measurement control and laboratory use. An IECEE CB Report eases conformity assessment in CB Scheme member countries.
RAC04-K/277 series modules are covered by a five-year manufacturer's warranty and available now at Dengrove Electronic Components
Datasheet
Downloads
Contact
Dengrove
So if you're looking for Power AC/DC Power Converters components for your next project, and you want a supplier with great customer service and the knowledge, experience and technical skills, then contact Dengrove today.
Call us. 01525 237731
Email us. sales@dengrove.com