Medically certified 2W DC/DC converters save space in 8mm-wide SIP package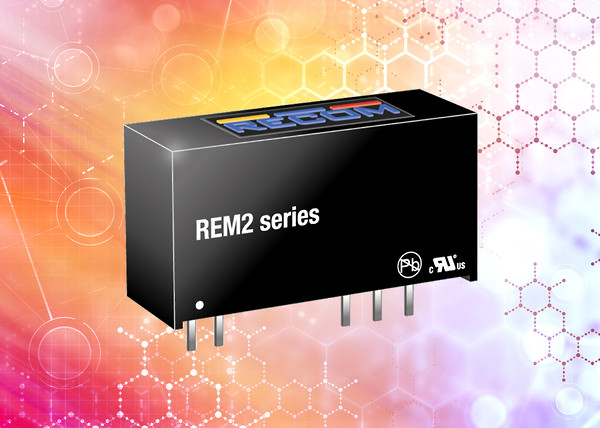 Now available from Dengrove Electronic Components, RECOM REM2 isolated DC/DC converters save space in medical applications by delivering up to 2W and 2MOPP/250V AC working voltage in a narrow SIP8 package.
With IEC/EN 62368-1 and 60601-1 certifications, and with reinforced 5.2kVDC/1-minute isolation, the REM2 series helps simplify approval of medical and scientific applications. The series is also covered by a CB report that eases certification of end products in CB Scheme member countries worldwide. The converters are EN 60601-1-2 and EN 55011 compliant with the addition of a simple external LC filter.
In addition to streamlining conformity assessment, REM2 converters are strong performers, achieving up to 85% efficiency and operating over a wide temperature range from -40°C to 80°C without derating and 95°C at 50% load.
The REM2 series contains 32 variants comprising 3.3V, 5V, 9V, and 12V single-output and ±3.3V, ±9V, and ±12V dual-output models. Nominal input voltages are 3.3V, 5V, 12V, 15V, or 24V.
The compact SIP8 package has a footprint of 8mm x 23mm and, at just 12.2mm high, is ideal for low-profile or portable equipment designs. Covered by a 5-year manufacturer's warranty, REM2 converters also deliver peace of mind.
Datasheet
Downloads
Contact
Dengrove
So if you're looking for Power DC/DC Power Converters components for your next project, and you want a supplier with great customer service and the knowledge, experience and technical skills, then contact Dengrove today.
Call us. 01525 237731
Email us. sales@dengrove.com