Power supply reference designs solve railway-specific EMC and RIA12 surge-protection challenges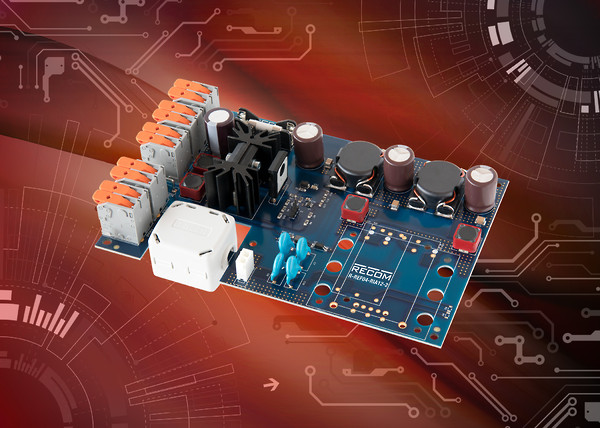 Two new RECOM railway power supply reference designs, available now at Dengrove Electronic Components, solve engineering challenges including filter layout for EN 50121-3-2 EMC compliance and surge prevention meeting the UK RIA12 specification.
The R-REF04-RIA12-1 board targets high-voltage applications up to 110V, while the R-REF04-RIA12-2 is built to handle DC input current up to 10A. Both are input-side fused and can be used with single-output DC/DC converters up to 45A. The boards feature a universal pinout for 2" x 1", quarter-brick and half-brick standard case sizes, giving users the flexibility to choose from converters of various power ratings up to 240W.
RIA12 surge protection is provided using an active input-voltage clamp featuring a surge-stopper IC, which acts quickly to block surge voltages up to 385VDC. The clamp circuit also provides inrush current limiting. The boards provide a nominal value of hold-up capacitance, with connectors to add extra capacitance if required. The input, output, and hold-up connections feature easy-to-use cage-clamp terminals, and there are isolated connections for fan power and system enable.
Dengrove is now stocking the reference boards as well as a broad selection of applicable RECOM DC/DC converters, and can provide selection advice to support customers' projects.
Datasheet
Downloads
Contact
Dengrove
So if you're looking for Power Evaluation Boards DC/DC Power Converters components for your next project, and you want a supplier with great customer service and the knowledge, experience and technical skills, then contact Dengrove today.
Call us. 01525 237731
Email us. sales@dengrove.com