Wide-input 1"x1" 15W isolated converters deliver flexibility with space savings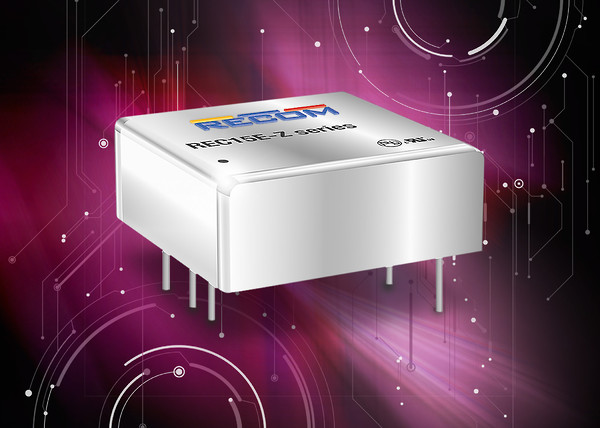 For cost-sensitive applications where board space is at a premium, Dengrove Electronic Components has the new RECOM REC15E-Z isolated DC/DC converters featuring a 4:1 input-voltage range and compact 1"x1" footprint with built-in protection.
The choice of 9V-36V or 18V-75V input range lets REC15E-Z converters work with all standard industrial bus voltages from 12V to 48V, as well as popular battery types such as lead-acid or lithium. Inputs are protected against transients up to 100V to ensure robust performance in electrically noisy conditions, and Under-Voltage Lockout (UVLO) prevents over-discharging of batteries.
Capable of operating at up to 90% efficiency, these 15W converters deliver full power from -40°C to 75°C with no derating. There is also no minimum load requirement. Single- or dual-output configurations are available, covering popular 3.3V, 5V, 12V, 24V, ±12V, or ±15V voltages to address a wide range of applications. The outputs can drive high-capacitive loads and feature built-in continuous protection against short-circuit and overload conditions.
Customers can specify the REC15E-Z converters with a 3.3V, 5V, 12V, or 24V single-ended output or ±12V or ±15V dual outputs. Further options include an external on/off control pin and a trimming pin to adjust the output voltage up or down with an external resistor. The outputs feature built-in continuous protection against short circuit and overload conditions and can drive highly capacitive loads.
With 1.6kV isolation the converters ensure safety in demanding applications. They are certified to the latest IEC/EN/UL 62368-1 safety standard and come with a three-year manufacturer's warranty.
Datasheet
Downloads
Contact
Dengrove
So if you're looking for Power DC/DC Power Converters components for your next project, and you want a supplier with great customer service and the knowledge, experience and technical skills, then contact Dengrove today.
Call us. 01525 237731
Email us. sales@dengrove.com