Boost-Converter Evaluation Board Simplifies Power Upgrade for Longer-Running Wireless Sensors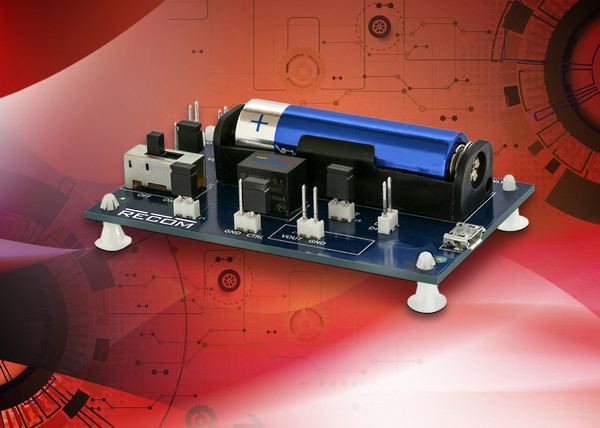 Dengrove Electronic Components has a solution to make small battery-powered wireless devices run for longer, with the latest RECOM evaluation board for the 3.3V R-78S boost converter.
The R-78S Evaluation Board (R-78S3.3-0.1-EVM-1) maximises run-time by generating a regulated 3.3V output as the battery discharges to as low as 0.65V. In addition, test points for measuring load current and voltage help predict the application's run-time in active and standby modes. There is also a holder for users to insert a 1.5V AA battery, which can store more energy than the coin cells often used to power plug-and-play IoT modules. Combining the extra battery energy, run-time predictability, and the R-78's low-voltage boost, this board let's users significantly extend the operating window of devices like wireless sensors.
To make this flexibility easily accessible for IoT-device developers, Dengrove is also stocking the R-78S3.3-0.1-EVM-1/STM-1 breakout board for connecting the R-78S Evaluation Board to the STMicroelectronics SensorTile module. The SensorTile combines MEMS inertial sensors, pressure, temperature, and humidity sensors, and a digital microphone, with a Bluetooth® Low Energy (BLE) radio module. When connected via the breakout board, the R-78S Evaluation Board enables the sensors and radio to operate and stay connected far longer than if running from the original coin cell. Dengrove also has the R-78S3.3-0.1-EVM-1/SBL-1 board for the similar Arrow SensiBLE IoT wireless sensor module.
Dengrove can also supply the compact, fully integrated R-78S boost converter for volume production, when customers' projects are ready. A reference design board, R-REF02-78S, is available as a ready-to-use example for IoT applications. The R-78S converter can also be supplied with a 1.8V or 3.6V output to power popular Bluetooth or LoRaWAN transmitters.
The R-78S3.3-0.1-EVM-1 evaluation board and sensor-module breakout boards are in stock now. Please call Dengrove Electronic Components for further information.
Datasheet
Downloads
Contact
Dengrove
So if you're looking for Power Switching Regulators components for your next project, and you want a supplier with great customer service and the knowledge, experience and technical skills, then contact Dengrove today.
Call us. 01525 237731
Email us. sales@dengrove.com