RECOM's new low cost TRIAC dimmable drivers deliver the right amount of light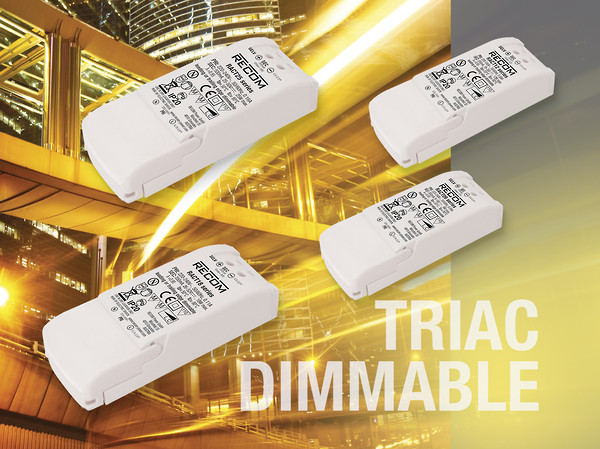 The latest RECOM LED drivers with 9W, 12W, 18W and 25W outputs, deliver 1% to 100% leading-edge or trailing-edge TRIAC-controlled dimming at the market's most affordable prices. These LED drivers are designed for either retrofit or new installations and allow the user to set the lighting atmosphere and mood in homes, spotlighting and furniture installations.
The new RACT series are low cost, triac-dimmable LED drivers available with constant current outputs ranging from 300mA up to 1400mA. Both leading and trailing edge phase angle control makes them suitable for many standard dimmers for a wide range of applications. Ideal for indoor locations up to 50°C ambient temperature, this series is certified for building into furniture for applications such as dimmable shelf lighting, cove lighting or accent lighting. Integrated cable clamps and extra-large screw terminals make for an easy installation. The Class II (double insulated) design means that no earth connection is required. They are CE marked (LVD + EMC + RoHS) and have IEC61347-1/IEC61347-2-13 CB reports. RECOM offers a 3 year warranty as standard.
Datasheet
Downloads
Contact
Dengrove
So if you're looking for Lighting & Display LED Drivers components for your next project, and you want a supplier with great customer service and the knowledge, experience and technical skills, then contact Dengrove today.
Call us. 01525 237731
Email us. sales@dengrove.com