RECOM's new super-flat 11 and 13mm high LED drivers are ideal for height limiting applications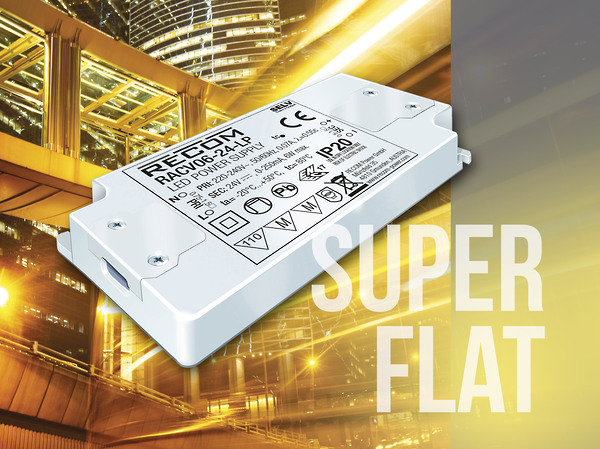 RECOM's new family of super-flat constant-current and constant-voltage LED drivers is now available from Dengrove. Measuring just 11 and 13mm high, these latest drivers are suitable for stand-alone LED luminaires where space – especially height – is at a minimum.
The new drivers come in 350, 500 and 700mA constant-current outputs (RACD06-LP, RACD12-LP, RACD20-LP) or 12V and 24V constant-voltage outputs (RACV06-LP, RACV12-LP, RACV20-LP) and are suitable for ambient temperatures between -20° and +50°C and offer an isolation voltage of 3.75kVAC/1 minute.
Ideal for concealed installation applications such as furniture, unobtrusive mounting in shelving units, behind glass panels or mirrors for example, these LED drivers are also designed for accent lighting along corridors, on floors and ceilings, or for installation in lighting strips and compact designer lamps.
The reduction in height offers great price and performance benefits with no compromise on quality. The LED drivers are short-circuit and overload protected, CE, CB, and ENEC certified, have an excellent standby power to meet tough new power-consumption regulations, and come with a full 3-year warranty. Samples are available.
Samples are available
Please contact us to arrange your samples.
Contact
Dengrove
So if you're looking for Power Lighting & Display LED Drivers components for your next project, and you want a supplier with great customer service and the knowledge, experience and technical skills, then contact Dengrove today.
Call us. 01525 237731
Email us. sales@dengrove.com