New Compact LED Drivers Designed for Integrated Lighting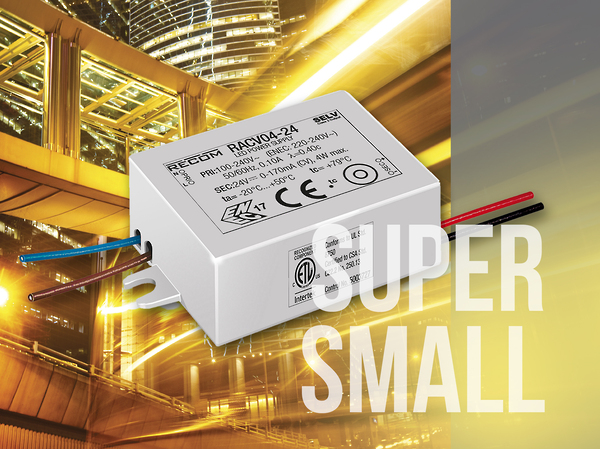 Dengrove is now offering RECOM's latest DC current (RACD04) and DC voltage (RACV04) LED drivers, which have been designed for cost-sensitive applications. Safety extra low voltage or SELV terminals are ideal for supplying power to integrated LED lighting.
These LED drivers are compact and include cable connectors and can be built into furniture, hidden under shelving, or integrated into applications where space is limited. The RACD04 series is aimed at LED spotlights, reading lamps and accent lighting, whereas the RACV04 series is ideal for LED strips, background and wall lighting, furniture and cabinet lighting.
Each 4W AC/DC LED power supply in IEC protection class II is packed into a compact casing measuring 38 x 27 x 21 mm at a weight of just 40g. The RACD04 series has 350, 500 and 700 mA DC current terminals, whereas the RACV04 has 12 and 24V DC current terminals. The isolation voltage in either case is 3.5 kV AC/1 minute. These LED drivers are classified to IP65, and are suitable for damp areas such as kitchens and bathrooms, or covered garden or outdoor facilities. The drivers provide complete protection against short circuit, overvoltage, overload and overheating, and are certified according to CE, DB, CSA and UL8750 standards and comply with the RoHS2.1 and ErP directives. Both series have a three-year guarantee.
Datasheet
Downloads
Contact
Dengrove
So if you're looking for Power Lighting & Display LED Drivers components for your next project, and you want a supplier with great customer service and the knowledge, experience and technical skills, then contact Dengrove today.
Call us. 01525 237731
Email us. sales@dengrove.com