Super-Compact, Isolated DC/DC Converters Pack 10 Watts in Fully Shielded 1x1-Inch Module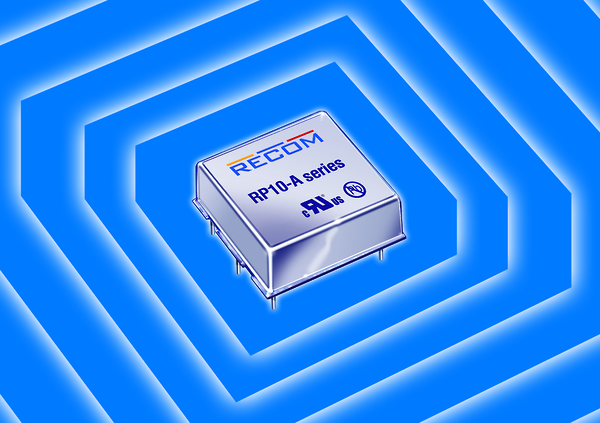 Two new extremely compact isolated DC/DC converters from Dengrove Electronic Components deliver up to 10 Watts from a 1x1-inch footprint, aiding the drive to save board space in equipment such as distributed power architectures, industrial controls and telecommunication equipment.
The RECOM RP10-A and RP10-AW are fully specified, with built-in class-B EMC filters, short-circuit, overcurrent and overvoltage protection, and under-voltage lockout. No additional external components are required, which not only minimises solution size but also simplifies design and enhances reliability. Six-sided continuous shielding maximises blocking of radiated noise thereby ensuring coexistence with external noise sources or sensitive equipment.
With nominal input voltages of 12V, 24V or 48V, the RP10-A and RP10-AW allow an input-voltage ratio of 2:1 and 4:1 respectively thereby giving a wide safety margin to handle large supply fluctuations. Single-output models have standard voltages from 3.3V to 24V, while complementary outputs range from ±5V to ±15V. The voltage can be trimmed over a range of ±10%, and low ripple and noise ensures the stability of powered equipment. The converters have typical efficiency of up to 91%, and no minimum load is required.
All units have 1.6kV isolation giving enhanced safety, are UL 60950-1 certified, and provide extra peace of mind through RECOM's three-year warranty.
Datasheet
Downloads
Contact
Dengrove
So if you're looking for Power DC/DC Power Converters components for your next project, and you want a supplier with great customer service and the knowledge, experience and technical skills, then contact Dengrove today.
Call us. 01525 237731
Email us. sales@dengrove.com