Industrial power supplies boast higher than standard build quality, smaller than standard dimensions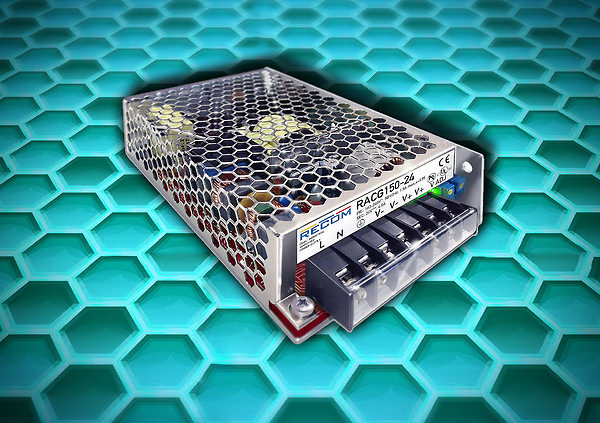 The latest RECOM RACG100 and RACG150 industrial power supplies save space without compromising ruggedness, protection, or efficiency are now available from Dengrove Electronic Components.
More compact than the standard industrial size, these competitively priced power supplies feature high-grade electrolytic capacitors that help achieve MTBF of 200,000 hours.
The RACG100 delivers 100-Watt from its 129mm x 98.0mm x 37.6mm case size, and has over-current and overload protection built in. It is available with nominal output voltage of 5V, 12V, 24V or 48V, and operates from -20°C up to 60°C with 50% derating. The 150-Watt RACG150 measures just 160mm x 98.3mm x 37.6mm, with additional over-voltage and over-temperature protection and operation up to 70°C. Output voltages are 12V, 24V and 48V.
High inrush capability of up to 45A makes these units ideal for industrial applications such as lighting or motor drives. Their compact dimensions and high build quality also makes them a strong choice for commercial or high-reliability applications. Support for horizontal or vertical mounting maximises flexibility for designers and installers.
Both the 100W and 150W models operate at up to 88% efficiency, and feature a universal input allowing connection to a 90-264VAC or 120-370VDC source anywhere in the world. These power supplies have important safety certifications including IEC 60950-1, and the isolated outputs can withstand 3kV for one minute. Both models have passed EN55022 class-B electromagnetic compatibility, and have built-in active Power-Factor Correction (PFC) that simplifies compliance with EN61000-3-2 class A for harmonic distortion. All units come with a three-year manufacturer's warranty.
Datasheet
Downloads
Contact
Dengrove
So if you're looking for Power components for your next project, and you want a supplier with great customer service and the knowledge, experience and technical skills, then contact Dengrove today.
Call us. 01525 237731
Email us. sales@dengrove.com