20W and 30W isolated converters deliver dependable power in noise-sensitive applications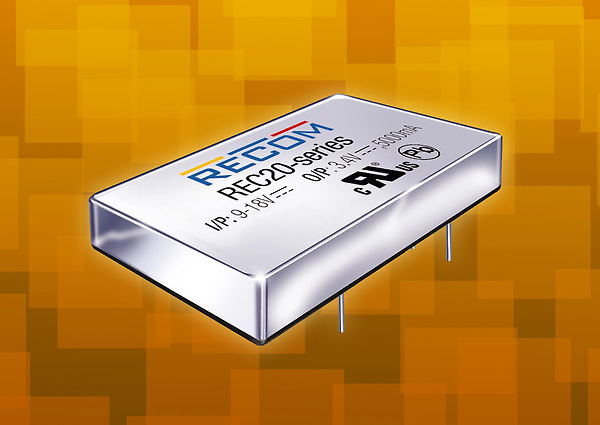 The latest RECOM REC20 and REC30 regulated DC/DC converters with six-sided shielding, now available from Dengrove Electronic Components, provide superior protection for noise-sensitive circuitry.
These 20W and 30W isolated converters target high-power industrial applications, with nominal input voltages of 12V, 24V or 48V making them suitable for industrial automation, telecom equipment, and general distributed power architectures. The standard input-voltage range of 2:1 provides a good safety margin for most applications. The REC20-Z and REC30-Z versions have a wider, 4:1, input range for use where large or unfilterable input-voltage fluctuations are expected. A comprehensive selection of output voltages is offered, covering 3.3V, 5V, 12V and 15V. Dual outputs of ±12V and ±15V are also available. The converters can deliver output current of up to 5A (REC20 series) or 6A at 5V or 3.3V (REC30 series). The higher-current versions have raised output voltages to compensate for track losses.
The converters are 10.2mm-high 6-pin modules with a 50.8mm x 25.4mm (2" x 1") or 50.8mm x 40.6mm (2" x 1.6") outline for the 20W and 30W units respectively. Built-in features such as continuous short-circuit protection and remote on/off enhance safety and control. All modules have 1.6kV DC isolation, meet IEC 60950-1 safety requirements, and are certified to EN55022.
Datasheet
Downloads
Contact
Dengrove
So if you're looking for Power components for your next project, and you want a supplier with great customer service and the knowledge, experience and technical skills, then contact Dengrove today.
Call us. 01525 237731
Email us. sales@dengrove.com