New R-78HB Series Switching Regulators Extend Efficiency Advantages in Battery-Powered Applications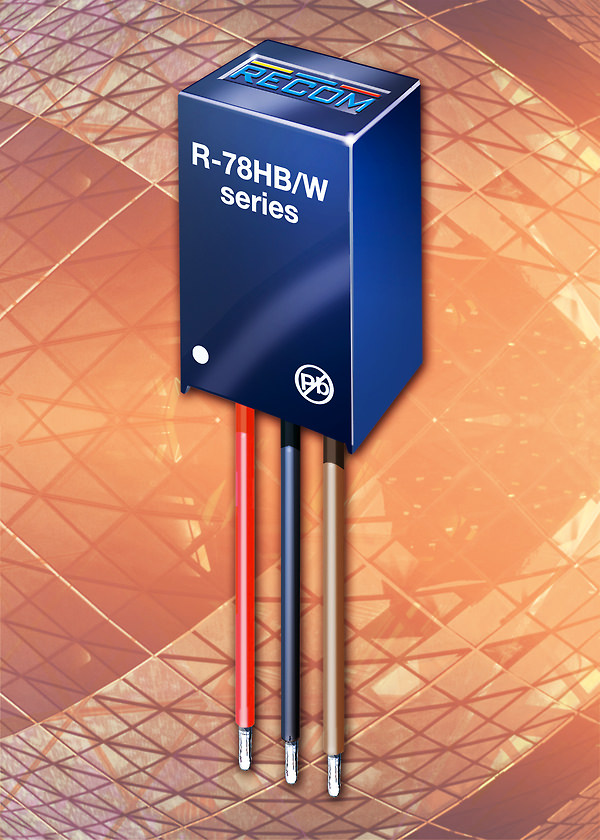 The extended 9V-48V input range of the latest RECOM R-78HB switching regulators, now available from Dengrove Electronic Components, allow appliances to run for longer from a standard 12V, 24V or 36V battery by utilising all of the battery's stored energy.
As well as their super-wide input range, the R-78HB regulators also maintain high efficiency of up to 93%, with quiescent current of only 5mA maximum they can run heatsink-free to save cost, size and complexity. With short-circuit protection, input filter and a protective diode for powering highly capacitive loads built in, the modules are self-contained and require no additional external components.
Two versions are available the 5.0V and 12V single output. The R-78HB5.0-0.5/W and R-78HB12-0.5/W are ideal for supplying up to 0.5A to a wide variety of industrial or aerospace applications or to provide an auxiliary constant voltage from a constant-current LED driver.
The new R-78HB series are certified according to IEC/EN-60950-1 general safety and EN55022 Class B EMC standards as well as the EN61000-4-2 ESD-standard. The modules are packaged as 12.1mm x 9.7mm x 24.0mm SIP3 wired devices that enable the direct replacement of traditional 78xx linear regulators.
Combined with their super-wide input range the R-78HB switching regulators operate at up to 93% efficiency and can run heatsink-free to save cost, size and assembly complexity.
Datasheet
Downloads
Contact
Dengrove
So if you're looking for Power Switching Regulators components for your next project, and you want a supplier with great customer service and the knowledge, experience and technical skills, then contact Dengrove today.
Call us. 01525 237731
Email us. sales@dengrove.com