Meet your demanding power needs with RECOM'S New Enhanced Isolation DC-DC Converters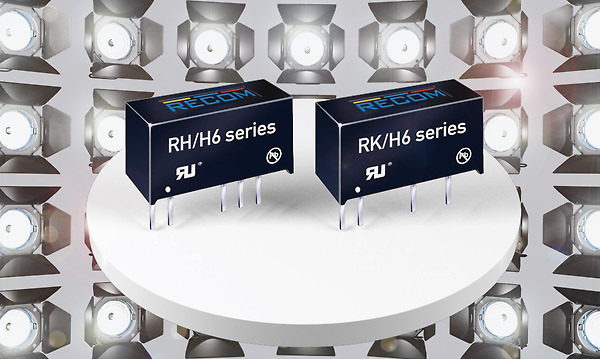 Now available from Dengrove are the new RECOM RK/H6 and RH/H6 1W DC-DC converters have a higher isolation voltage of 6.4kV compared to standard 3kV and 4kV models.
The latest H6 variants with enhanced isolation operate over an extended temperature range from -40°C to +90°C without derating, making them a reliable choice in high-isolation test and measurement applications, telecom equipment, demanding industrial environments, or isolated power for sensors.
The RK series are single-output converters, while the RH series provides dual-outputs. A wide range of configurations are available for operation from 5V, 12V, 15V or 24V input voltage, with standard output voltages from 3.3V to 15V (RK) or ±3.3V to ±15V (RH). All models feature a built-in EN 55022 class-A EMI filter and continuous short-circuit protection.
Building on the robust reputation of the standard RK and RH series, the enhanced models now in stock at Dengrove offer high output-voltage accuracy, tight line and load regulation, high efficiency, and low output ripple and noise. They meet international safety standards, and come with a three-year manufacturer's guarantee.
Contact
Dengrove
So if you're looking for Power DC/DC Power Converters components for your next project, and you want a supplier with great customer service and the knowledge, experience and technical skills, then contact Dengrove today.
Call us. 01525 237731
Email us. sales@dengrove.com