TAIYO YUDEN's Latest SMD Power Inductors and Multilayer Capacitors Now Available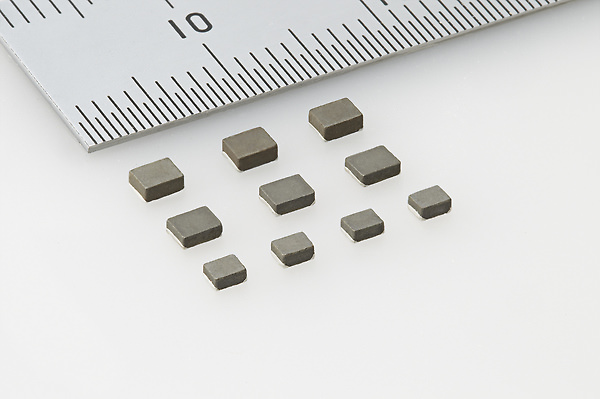 TAIYO YUDEN designs and manufacturers some of the most innovative and compact passive components on the market and Dengrove Electronic Components is now offering its latest range of SMD power inductors and multilayer ceramic capacitors.
MCoil™ MA and MD Series
The MCOIL™ MA and MD series metal core SMD power inductors meet the needs of a growing requirement for miniaturising of components while still increasing specification. To achieve this, TAIYO YUDEN has designed these power inductors using its own magnetic materials, which has excellent DC bias characteristics. The saturation current has been improved by nearly 25%, compared to the company's conventional products by revising the structure of the metal core wire-wound chip power inductors and with further improvements in the winding techniques.
The MCOIL™ MA series metal core wire-wound chip power inductors feature the MAMK2520H measuring 2.5 x 2.0 1.2mm and 2.5 x 2.00 x 1.00mm, with the larger size MD series MDWK4040 measuring 4.0 x 4.0 x 2.0mm.
TY Multilayer Capacitors
In addition, also now available from Dengrove is the industry's first 470µF high value multilayer capacitors from TAIYO YUDEN. The PMK432AC64777MM and AMK432ABJ477MM ranges both measure just 4.5 x 3.2 x 2.7mm, resulting in a reduction of mounting space required compared to electrolytic capacitors.
By making continued technological advancements in material, thin film technology and multilayer capabilities and by realizing a multi-layered structure having more than 1200 layers, has enabled TAIYO YUDEN to introduce the first 470µF high value multilayer capacitor.
These devices are ideal to smooth the output and ensure the stable operation in power supplies used in a host of devices. The PMK432AC64777MM and AMK432ABJ477MM have a voltage rating of 2.5V and 4.0V respectively.
Datasheet
Downloads
Contact
Dengrove
So if you're looking for Passives components for your next project, and you want a supplier with great customer service and the knowledge, experience and technical skills, then contact Dengrove today.
Call us. 01525 237731
Email us. sales@dengrove.com