Efficient and Compact AC/DC Power Supplies offer High-Grade Medical Specifications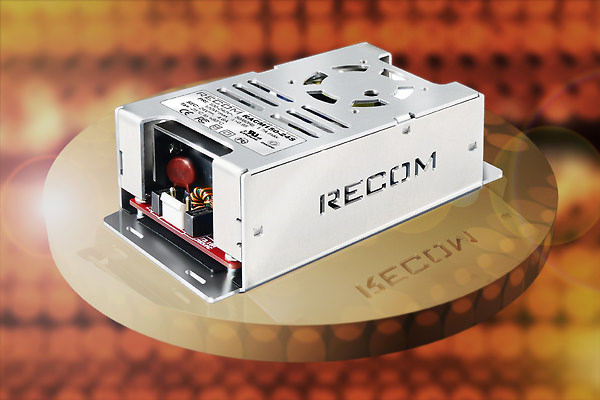 Dengrove Electronic Components, RECOM's leading UK distribution partner, is now offering the new RACM100 and RACM150 series of AC/DC power supplies, which have been specifically designed for medical applications.
Meeting 2 MOPP (means of patient protection) safety approval for medical applications, these compact, high efficiency power supplies provide 100W or 135W maximum power in a semi-enclosed case without forced cooling and up to 150W for the optional fan version.
The compact 3"x2" or 4"x2" modules are available in output voltages of 12V, 15V, 24V and 48VDC, with single outputs provided from a universal 85-264VAC input. Featuring efficiencies up to 92%, the output voltages are fully regulated and deliver tolerances of less than ±0.2% over the entire input voltage range and less than ±0.5% over the entire load range.
Operating at temperatures between -25°C and +80°C these latest AC/DC power supplies meet the requirements for medical applications with patient contact (2xMOPP 8mm creepage & clearance and 250VAC working voltage).
The modules are approved to medical safety standard IEC / ES / EN60601-1 3rd Edition and feature B and BF rated outputs with less than 100µA leakage current. All models are compliant with Class B EMI to FCC, EN60601-1-2 and EN55022 standards and offer a five year warranty.
Datasheet
Downloads
Contact
Dengrove
So if you're looking for Power AC/DC Power Converters components for your next project, and you want a supplier with great customer service and the knowledge, experience and technical skills, then contact Dengrove today.
Call us. 01525 237731
Email us. sales@dengrove.com