New high quality open-frame power supplies from RECOM now available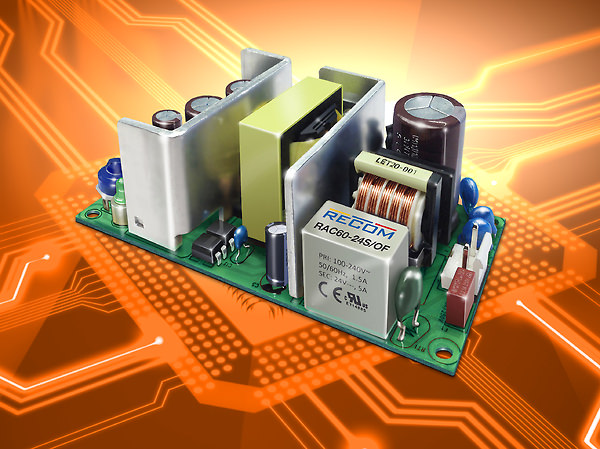 Dengrove Electronic Components has the latest 48W and 60W open-frame power supplies from RECOM which are now ready to order. These power supplies, are compliant with worldwide safety standards as well as the European ErP Directive.
The RAC48/OF and RAC60/OF are ideal for use in systems such as industrial controls, computing, test gear, network equipment and medical applications. These compact AC/DC PSUs can typically operate reliably in high ambient temperatures without active cooling and have a specified operating-temperature range of -20°C to +50°C at 100% load and up to 70°C at derated load.
The power supplies, built with high-quality components for outstanding reliability, deliver performance advantages such as high efficiency, sub-0.5W standby power and a long hold-up time of 60ms.
Both series are available with output voltages of 5VDC, 12VDC, 15VDC and 24VDC, adjustable via the on-board preset. The DC outputs are fully protected with OCP, OVP and hiccup SCP. With their universal input voltage range of 90V to 265VAC and 3kVAC/1 minute isolation, they are suitable for worldwide use.
Major certifications include EN55022 EMC (Class B), IEC 60950-1 CB Report, EMC + LVD CE mark, FCC and UL 60950-1 certificates. The MTBF lifetime (MIL-HDBK217F) is approximately 450,000 hours. All units are covered by a three-year warranty.
Contact
Dengrove
So if you're looking for Power components for your next project, and you want a supplier with great customer service and the knowledge, experience and technical skills, then contact Dengrove today.
Call us. 01525 237731
Email us. sales@dengrove.com