Compact wired AC/DC modules with low standby power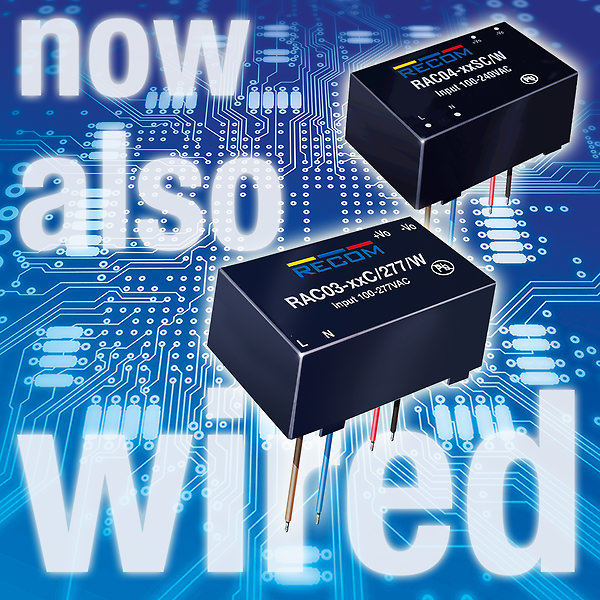 RECOM expands its low-power AC/DC RAC series with the introduction of two new wired versions: the RAC03-C/W and RAC04-C/W. These wired modules open RECOM's product range to off-board applications while at the same time continuing to meet market demand for efficient power supplies in the low-wattage range.
The compact RAC03-C/W and RAC04-C/W universal input power supplies operate from 80V-264VAC (115-370VDC) and are available with output voltages of 3.3, 5, 9, 12, 15 or 24VDC with 3kVAC/1min input-to-output isolation. 
With standby consumption of only 30mW, these mini power supplies are particularly suitable for low-power, sensor, and standby applications. Because of their low height (<17 mm) and sealed construction, they are a versatile solution for home automation, external power supplies, and prototyping. 
Featuring an integrated input filter and fuse, these modules comply with EN55022, Class B, EMC without any external components. They are protected against continuous short circuits with automatic restart after the fault has been removed. These converters are IEC/EN/UL60950 certified and come complete with a 3-year warranty.
Contact
Dengrove
So if you're looking for Power components for your next project, and you want a supplier with great customer service and the knowledge, experience and technical skills, then contact Dengrove today.
Call us. 01525 237731
Email us. sales@dengrove.com