Premium DC/DC converters at favourable prices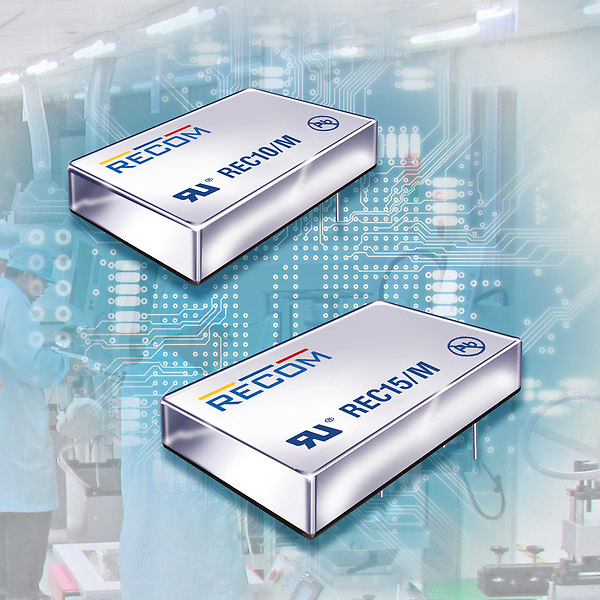 RECOM has introduced two new DC/DC converter series, the REC10-M (10W) and REC15-M (15W). They come in a high-quality2"x1" metal cases and are pin-compatible with common industry-standards. The modules are available with either ultra-wide 4:1 inputs (9-36VDC or 18-75VDC) or standard 9-18VDC, 18-36VDC and 36-75VDC inputs and have single output (3.3V to 15V) as well as dual output voltages (±5VDC, ±12VDC or ±15VDC).
The new converters offer efficiencies of up to 87% with an operating temperature range of -40°C to +100°C (2:1 versions). Even with high capacitive loads up to 3,3mF they exhibit excellent start-up behaviour. The modules feature a standard remote on/off pin and are protected against short circuit and overload. Additionally, the standard isolation voltage is 2000VDC between input and output with an option to increase this isolation to 3000VDC.
They are manufactured in RECOM's new high-tech factory in Taiwan which means that RECOM can offer these parts at an attractive price. The converters, which come with a 3 year warranty, are certified to EN/UL60950-1 and are suitable for a variety of industrial applications.
Contact
Dengrove
So if you're looking for Power components for your next project, and you want a supplier with great customer service and the knowledge, experience and technical skills, then contact Dengrove today.
Call us. 01525 237731
Email us. sales@dengrove.com