Dengrove introduce RECOM's dimmable and flicker free 20w LED driver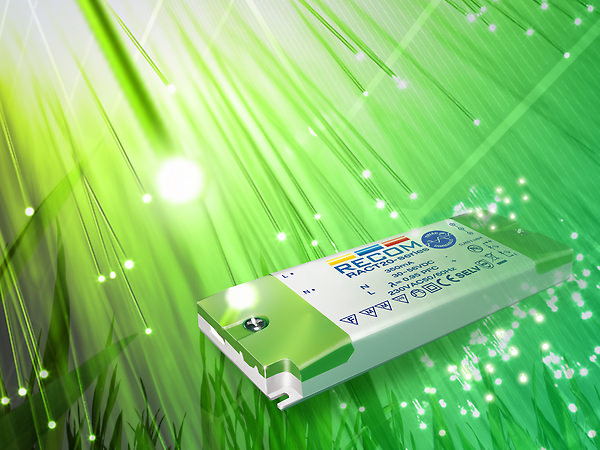 LED lamps are the future to illuminate our houses and also public/commercial rooms. Therefore reliable solutions are a must to get acceptance of these innovative light sources. The elimination of traditional lamp types increases the need for alternative dimming methods.
The use of TRIAC-dimmers in LED-systems causes unwanted flicker, visible to the eye, due to phase modulation. This prevents linear dimming of LED's down to zero. If existing TRIAC-Dimmers are to be used with LED-systems, a new type of LED-Driver is required.
Dengrove releases RECOM's RACT20-family, a new generation of AC/DC driver that can be dimmed linearly and without flicker from 100% down to zero. The RACT20-family is equipped with a specially developed TRIAC input, which is not effected by the PFC-circuit of the driver. This is an ideal solution for many LED-systems where dimming is easy.
These new AC/DC-drivers are available with either 230VAC or 115VAC input. They offer 20 Watt and can support 5 to15 power LED's or LED-chains, with constant currents of 350, 500, 700 or 1050mA. The power factor (PFC) is >95% and therefore better than required by EN 61000-3-2 and meet the class C requirement.
RACT20-drivers are designed for indoor applications, class IP20 and measure only 32.6 x 16.5 x 11.1mm (L x W x H). They are EN/UL 60950-1 certified with a "Design Lifetime" >70.000 hours. Warranty is 5 years.
Contact
Dengrove
So if you're looking for Lighting & Display components for your next project, and you want a supplier with great customer service and the knowledge, experience and technical skills, then contact Dengrove today.
Call us. 01525 237731
Email us. sales@dengrove.com