Dengrove offer wide range of enclosures for handheld applications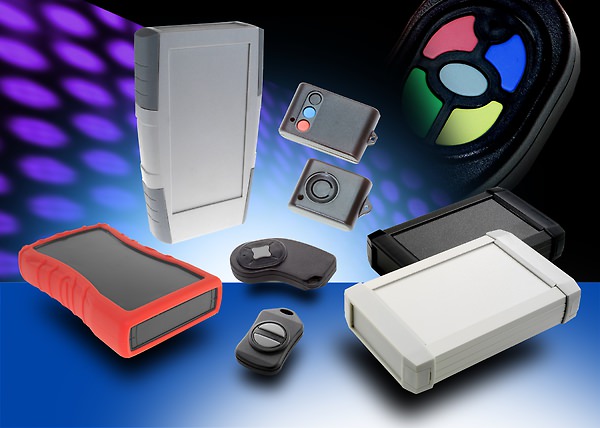 Dengrove offer an extensive range of CamdenBoss small enclosures that offer robust construction and are ideal for use in a wide variety of handheld applications.
The 33 series Grip Cases are based on an innovative and unique design concept developed to meet the highest mechanical demands complemented by rubberised corners for extra protection and additional grip. Features include screwless assembly via four soft grip corners, battery compartment lid with retaining screw, optional retaining screws for added security and recessed lid and base for membrane keypads or overlays. Internal screw pillars in lid and base facilitate  mounting of PCBs while optional EPDM gasket provides IP65 seal.
Available in two sizes – 25 and 35mm high – CamdenBoss 33 series Grip Cases are moulded in black or light grey high impact ABS. TPE coated polypropylene soft grip corners can be supplied in a range of standard colours including blue, green, red, orange, black, yellow and grey.
CamdenBoss 45 series Palm Cases offer an ergonomically designed range of handheld enclosures with integrated battery compartments and rubber boot options. Moulded in black UL94-5VA flame retardant ABS (ivory available to order), 45 series features include lid mounted by four self-tapping screws, removable end panels ideal for machining and ease of access, sliding battery compartment lid options for AA or 9V PP3 batteries with contacts/strap included, textured lid versions for consistent all-over surface finish, smooth recess lid version for membrane keypads or overlays and recess in base for product labels. PCB pillars are moulded into lid and base with screws available to order.
Three sizes are available measuring 117.5 x 72.5 x 25.5mm, 139.5 x 82.5 x 26mm and 165 x 82.5 x 26mm. Plain versions without battery compartment are available to special order.
Also available in the CamdenBoss handheld enclosure range is a wide variety of keyfob enclosures dedicated to RF activated mobile applications such as handheld transmitters and manual control units. These include 2955-20 series round keyfobs, 2955-40 series Ergo keyfobs and 2956/7 series Eco keyfobs.
Moulded in ABS, 2955-20 series round keyfobs feature snap-fit assembly of lid and base, 1 to 5 rubber buttons with contact pads, enclosed battery compartment for coin cells and eyelet for key-ring.
The ergonomically shaped ABS 2955-40 series keyfobs also feature 1 to 5 rubber buttons with the addition of a clear silicone LED window, separate enclosed battery compartment for coin cells and eyelet for key-ring.
The 2956 and 2957 series Eco keyfob cases are low cost solutions. The 2956 is a black ABS moulded case without buttons featuring small eyelet for key-ring and label recess in lid while the 2957 features up to three buttons – one central or one to three plastic buttons – and separate battery compartment for coin cells in base.
CamdenBoss 50 series Dura boxes are aluminium extruded boxes with plastic end caps for handheld, desk or wall mounted applications. Features include integral PCB mounting rails, front and rear plastic caps retained by M3 screws with plastic screw covers for improved appearance, recesses in lid and base for membrane keypads or overlays and textured sides for enhanced grip. Options include battery compartments and holders and neoprene gaskets for IP65 seal.
Ideal for a wide range of applications from remote controllers to housing external hard drives and instrumentation, CamdenBoss handheld enclosures complement the company's extensive portfolio of enclosure products which can also be customised with pre-drilled with holes and vents to suit customer requirements. CamdenBoss also offers full turnkey services as standard including engraving, screen printing, RFI shielding, finishing, assembly and packaging.
Contact
Dengrove
So if you're looking for Passives components for your next project, and you want a supplier with great customer service and the knowledge, experience and technical skills, then contact Dengrove today.
Call us. 01525 237731
Email us. sales@dengrove.com